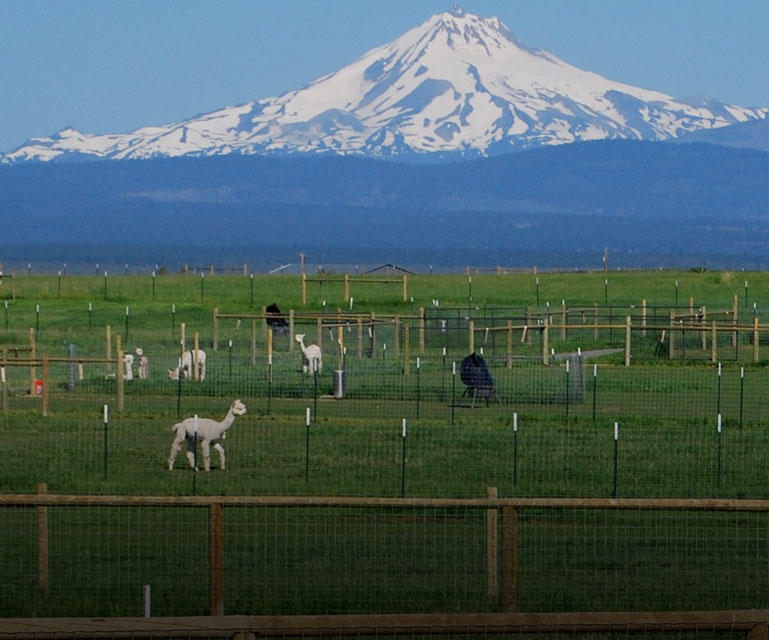 The Amber Autumn Alpacas ranch is located in Culver, Oregon with views of the beautiful Three Sisters Mountains. Owned by Daryl and Shirley Krause, our ranch is 107 acres of fully irrigated, prime hay land. We are active members of the Alpaca Owners Association.
We have been involved in the alpaca Industry since 1996. Our objective has been to produce superior breeding quality alpacas with higher fleece weights, low micron, and solid color in four color lines: white, fawn, dark brown and black.
Our herd consists of Peruvian, Bolivian, and Chilean bloodlines and Accoyo crosses of all three. We put major emphasis on maintaining strong hybrid vigor in all of our color lines while at the same time ensuring that we are breeding for excellent confirmation and type.
As well, we want to maintain the following critically important reproductive traits: abundance of milk, easy to rebreed, quiet and gentle personality. We absolutely refuse to breed genetic traits into our herd that will compromise these goals. All of our alpacas are blood typed and Alpaca Registry Inc. registered.
All of our bred females are sold confirmed pregnant by ultrasound and with live birth guarantees. Financing terms, when available, are described with each sale animal.

We offer a full rebirth guarantee, meaning that if you purchase a bred female from our farm and the cria does not live 72 hours, Amber Autumn Alpacas will provide a replacement cria of same gender and similar genetics.
As well, if you are a Canadian buyer of an alpaca located on our U.S. ranch, we will arrange all of the necessary veterinary health certificates, export tests, permitting required, and quarantine facilities. On package deals, we offer discounts and reasonable finance terms, and if possible, we will personally transport your new alpacas to your farm.  
We invite you to explore our website or better yet, visit us in person in Culver, Oregon. Just call to schedule an appointment.